[ad_1] Vanguard: Senator Dino Melaye representing Kogi west senatorial district has said that fellow Senators will forgive senator Ali Ndume, who is from Borno south if he can only show remorse and seek forgiveness.
Melaye said that Senate President Bukola Saraki could not have allowed Ndume to be suspended if he had been on seat during the meeting with of the Senate committee on ethics insisting that if only Ndume could show some form of remorse and he tenders an apology he may have his six months suspention reduced.
The Senate had suspended Ndume for six months following the recommendation of the Senate's Ethics and Privileges committee that cleared the Senate President Bukola Saraki and Dino Melaye of allegations of Imporation of SUV and certificates saga Which Ndume had asked the Senate to probe and clear air on.
Dino Melaye on Friday during a programmed on Channels Tv, Politics Today, declared that Ali Ndume's supention was not as a victim of witch-hunt as purported by some people.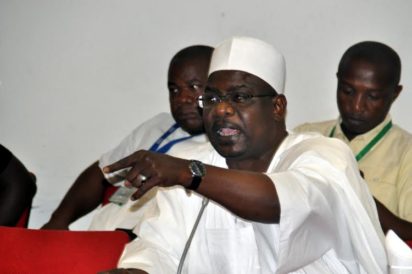 Defending the suspension of Ndume Melaye's said "Senator Ndume is an experienced legislator, having been in the lower Chamber the House of Representatives for two terms, and this being his second term in the senate.
"So, the decision to suspend Ndume was not that of Saraki or myself, but the decision of the Nigerian senate after investigation by the relevant committees.
"I didn't prophecy that he would be suspended, or did Bukola Saraki, who was wrongly accused. We are not the ones who make up the senate. Ndume should understand the workings of the national assembly. The senate is made up of 109 members.
"We have a very responsible senate president, a very compassionate Nigerian who does not believe in witch-hunting.
"Already, there is a lot of pressure, and people are appealing to the person of Bukola Saraki, and I can say on good authority that if Saraki had presided over Ndume's case, he may not have been suspended because the senate president is a compassionate character.
"So, if Ndume shows remorse, apologise to the senate, the Bukola Saraki that I know will persuade members to either reduce his punishment or forgive him.
"The senate has the capacity to suspend any erring senator, but what we are saying here is very clear, due process was followed.
"Ali Ndume was given fair hearing. He appeared before the committee, he defended himself before the committee gave that recommendation, which was ratified by the entire senate."